What is

GFC Hair Treatment?

Hair treatments have evolved over the decades. Even though home remedies and PRP have been popular hair loss techniques for a long time, they are either short-term solutions or face various procedural challenges, such as swelling and pain. GFC is a modern dermatology hair care fix that accelerates hair regeneration and repair by strengthening hair follicles, mending thin hair, and minimises hair loss.

GFC treatment in Hyderabad is a safe and non-invasive process that prevents hair shedding and tackles injured tissues using the natural growth factors in blood. Instead of relying on harmful chemicals, it extracts growth factors stored in a patient's own platelets and administers them at hair roots and into the affected areas, such as bald spots, to promote hair growth.

Each growth factor present in the platelets plays a fundamental role in repairing and regenerating damaged tissues. GFC extracts natural growth factors in high concentrations to migrate, facilitate, and differentiate stem cells.

Epidermal Growth Factor (EGF): EGF ensures the proliferation and regeneration of hair stem cells, promotes angiogenesis stimulation, and accelerates the mitogenesis of MSCs and epithelial cells.

Fibroblast Growth Factor-2 (FGF-2): FGF-2 aids the generation of new blood vessels and specialised cells.

Vascular Endothelial Growth Factor (VEGF): VEGF helps in developing new blood vessels. During the anagen phase VEGF increases perifollicular vessels and ensures consistent perifollicular angiogenesis. The anagen stage is when the cells present in the hair roots divide to form new hair.

Platelet-derived Growth Factor (PDGF): PDGF promotes hair growth and also oversees angiogenesis (generation of new blood cells) and vascularisation (development of blood vessels in specific organs or body parts). It also supports the mitogenesis of mesenchymal stem cells (MSCs) found in bone marrow that create and mend skeletal tissues.

Transforming Growth Factor-Beta (TGF-B): TGF-B ensures that matrix forms and grows between hair cells.

Insulin-like Growth Factor-1 (IGF-1): IGF-1 supports hair growth consistency, maintains the regrowth speed, increases hair volume, and stimulates new blood vessels.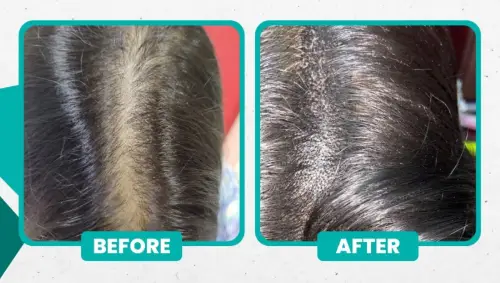 Labelle's

GFC Treatment Procedure

When hair follicles shrink or weaken, they loosen and cannot anchor hair to the scalp, causing it to shed. Activating platelets and natural growth factors assist in healing soft tissues, circulating blood supply to the hair roots, and enhancing hair quality and thickness. Labelle's skilled and trained dermatologists use specialised growth factor injections to inject these growth factors into the scalp and facilitate hair growth, making GFC the best hair loss treatment.

Extracting Blood Sample

The first step is collecting the blood sample. Labells's experienced doctors draw the patient's blood and store it in a centrifugal tube. Since this procedure uses the patient's own blood to grow hair, it prevents blood infections.

Blood Analysing and Processing

The extracted blood sample is stored and stirred in the centrifugal tube for 10-12 minutes at high speed to separate it into three layers: the first layer contains growth factors in high concentrations, the second layer contains low growth factors, and the third layer comprises red blood cells.

Injecting Growth Factors

Once the growth factors are separated, the doctor sterilises the needle and injects the collected growth factors into the affected scalp areas.
Benefits

of GFC Hair Treatment

Choosing GFC treatment in Hyderabad offers various benefits, including:
It accelerates natural hair regrowth and regeneration.
It improves hair density, thickness, and volume.
This treatment nourishes hair scalp, roots, and follicles to minimise hair shedding.
GFC is safe and non-surgical.
GFC does not use red and white blood cells to increase hair growth, preventing swelling.
There is no downtime.
GFC delivers noticeable results within 3-5 sessions.
It rejuvenates hair grafts to increase hair growth rapidly.
GFC boosts self-esteem and gives you a thriving social life.
What is the Cost of GFC Hair Treatment

in Hyderabad?

GFC hair treatment is a gradual process. It shows optimum results within 3-5 sessions spanning 5-7 weeks. This treatment also requires regular follow-up sessions every few months to maintain hair growth consistency, ensuring no post-procedure complications and the recovery period is swift and healthy. Thus, the GFC hair treatment cost in Hyderabad depends on factors such as:
The number of treatment and follow-up sessions
The equipment quality
Aftercare treatment
The number of growth factor injections required
GFC Hair Treatment

Guidelines

Labelle doctors provide guidelines for GFC hair treatment in Hyderabad. Following the prescribed pre- and post-treatment instructions is crucial to ensure a smooth and painless procedure, healthy recovery, and long-lasting results.

Pre-Treatment Guidelines

It is vital to remember the following instructions before starting your GFC hair treatment:
Don't take medication for at least two weeks before the GFC session, as it may lead to blood thinning.
Avoid direct sun exposure.
Wash your hair on the day of your hair session.
Don't apply conditioner, gel, or other hair products.
Avoid liquor consumption or smoking for at least 72 hours before the treatment.
Post-Treatment Guidelines
It is vital to remember the following instructions after completing your GFC hair treatment:
Avoid washing your hair for at least two days after the treatment. Consult your Labelle dermatologist for suitable hair product recommendations and instructions.
Avoid exercising or participating in heavy physical activities, as sweat can cause scalp redness or rashes.
Avoid scratching your treated scalp for 2-3 days post-treatment.
Do not visit spas, saunas, or swimming pools for at least a week after your GFC treatment.
Avoid smoking, consuming liquor, or using blood-thinning medication.
Keep yourself hydrated, as water stimulates blood circulation.
Why Choose Labelle for GFC Hair Treatment

in Hyderabad?

Labelle is the best GFC hair treatment clinic in Hyderabad. At Labelle, we are dedicated to fixing your hair problems according to your comfort and convenience. We offer you the following
Over 23 years of expertise and knowledge
Over 2,00,000 satisfied clients
Highly standardised protocols
Skilled and trained dermatologists and Hair care specialists
World-class GFC equipment
Customised treatment plans
Final Thoughts
Hair loss is one of the most common clinical problems that affects people of all ages. GFC treatment in Hyderabad is a proven and effective hair fall solution that offers long-lasting results. It mends damaged and injured hair tissues, strengthens hair volume, and returns your hair to its natural shine. Labelle ensures a safe and painless GFC procedure and guarantees to restore your healthy hair and self-confidence. Visit our clinic in Hyderabad and witness the change yourself!