GFC Treatment

- Things You Should Know

Understanding The Procedure

GFC, which stands for Growth Factor Concentrate, is a new approach to tackle hair problems. What's it all about? Making hair healthier, cutting down on hair loss, and bringing back that natural glow. If you're thinking about getting GFC treatment in Chennai, here's the scoop.

GFC treatment is a cutting-edge procedure that harnesses the regenerative properties present in one's blood to address hair loss. Rather than introducing external chemicals, this therapy capitalizes on the body's innate healing capabilities to promote healthier hair growth.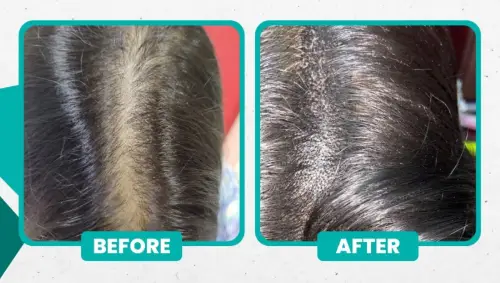 How Does

the GFC Hair Treatment Work?
Blood Extraction: First, a minimal volume of the patient's blood is taken out, typically from the arm. To extract blood, specialized GFC tubes are used, which are exclusively designed for this purpose.
Centrifugation Process: In the next step, the blood sample is placed in a centrifuge. This machine uses high-speed rotation to segregate the blood's components, allowing for the efficient isolation of the platelets, an essential element for the procedure.
Activation of Platelets: Once isolated, the platelets undergo a specific procedure to "activate" them. Upon activation, these platelets release growth factors, essential molecules that stimulate cellular growth and repair.
Extraction of Growth Factors: With precision and care, the growth factors are then extracted from the activated platelets, ensuring maximum yield.
Scalp Reinfusion: Using a fine needle, the concentrated growth factors are reinjected into the patient's patient's scalp, targeting areas exhibiting hair thinning or loss.
Why

GFC Treatment?

GFC treatment offers a number of unique benefits:

Autologous Approach: GFC treatment uses the patient's blood, which naturally lowers the chances of allergies or reactions to foreign substances. This tailored approach guarantees compatibility with the body and removes worries linked to reactions from outside materials.

Hair Regeneration: GFC introduces growth factors that re-energize inactive hair follicles, prompting them to grow again. This process not only boosts hair growth but also improves the overall health of the scalp.

Increased Hair Density: Besides combating hair loss, GFC treatment often helps increase hair volume and thickness. Consequently, patients regain lost hair and experience a boost in the overall fullness and vitality of their mane.

Minimally Invasive: Being a non-surgical procedure, GFC only involves a series of precise injections. This means reduced recovery time, minimal discomfort, and a faster return to daily activities compared to surgical interventions.

Natural Results: By leveraging the body's innate healing processes, GFC treatment yields natural-looking results. This approach ensures that the hair doesn't have an artificial or "treated" look.

Safety Profile: Modern methods have improved GFC treatment, making it safer than before. Just like with any treatment, picking the right experts is crucial. When it's done by skilled professionals like the ones of Labelle, GFC stands out as a trusted and low-risk approach to addressing hair loss.

Cures from Root: GFC treatment goes beyond just addressing the visible signs of hair loss. It focuses on the overall health of the scalp, ensuring hair roots are nurtured. This comprehensive approach leads to more enduring and sustainable results.

Cost-Effective in the Long Run: Although GFC treatment might appear costly at first, it can offer better value in the long run compared to continuous or invasive treatments. The lasting effects typically reduce the need for frequent follow-ups, saving both money and time for patients.
Why Labelle is Your Best Bet for GFC Treatment

in Chennai

Choosing the right place for your treatment is as crucial as the treatment itself. Labelle, a trusted name for GFC treatment in in Chennai, stands out for several reasons.

Expertise: At Labelle, the team of professionals brings together their vast experience in the domain of hair care. Their combined knowledge ensures tailored solutions for every client.

Quality: Every procedure at Labelle speaks of quality and assurance. They ensure that clients get nothing but the best. The commitment to excellence is evident in every step they undertake.

Cost-Effective: Worried about the GFC treatment cost in Chennai? Labelle offers competitive prices, ensuring you get top-notch service without burning a hole in your pocket. Budget-friendly options don't compromise the quality they deliver!

Personalized Care: At Labelle, understanding each client's unique needs is paramount. This ensures that everyone receives a treatment plan tailored just for them, enhancing overall effectiveness and satisfaction.

Innovative Techniques: Labelle prefers staying updated about the latest in hair care technology. Thus, the brand constantly upgrades its methods. This dedication to innovation ensures that clients benefit from the most recent and effective treatments available.

Aftercare Support: Beyond the initial treatment, Labelle provides commendable aftercare guidance. This post-treatment support ensures that clients can maintain and enhance the health and vitality of their hair long after their visit.

GFC hair treatment is not just about addressing concerns; it's about holistic hair health. While some treatments might offer a temporary fix, GFC aims at long-term results. And for Chennaites, Labelle is the destination where quality meets care!
What to Expect After

GFC Hair Treatment?

When you choose the GFC hair treatment in Chennai at Labelle, the process is simple yet transformative. Once you visit the clinic, Labelle's hair expert performs the necessary checks, diagnoses the reason and gives you a treatment plan. Once you agree to the given plan, the procedure is initiated with utmost precision. Team Labelle ensures your comfort throughout the session. After the treatment, they offer guidance on maintaining and enhancing the results. With Labelle's expertise, you can expect improved hair health and added confidence.
Cherish

The Labelle Confidence!

Chennai has always been a blend of traditions and modernity, and in the realm of hair care, the city has embraced the future with open arms. With the rise in popularity of GFC treatments, Labelle in Chennai is committed to ensuring that everyone has access to the best hair care solutions. Here's to better hair days ahead - book your visit now!