Understanding

Hair Loss

Hair loss is something that affects many. Several reasons why this happens can be the key to finding the right solution.
It's in the genes for some— if your parents or family members experienced hair loss, you might too.
Hormonal changes— like during pregnancy or menopause, can also cause hair to thin out.
Stress— we all go through it. Stress can mess with our hair growth.
Medical conditions and treatments— sometimes, it's as simple as not getting the nutrients from our diet.
Hairstyle— how we style our hair can lead to hair loss. It's a lot to deal with, and you're not alone.
Labelle's expertise in hair fall treatment in Vijayawada is what you need to help you transport your hair back to its former glory days.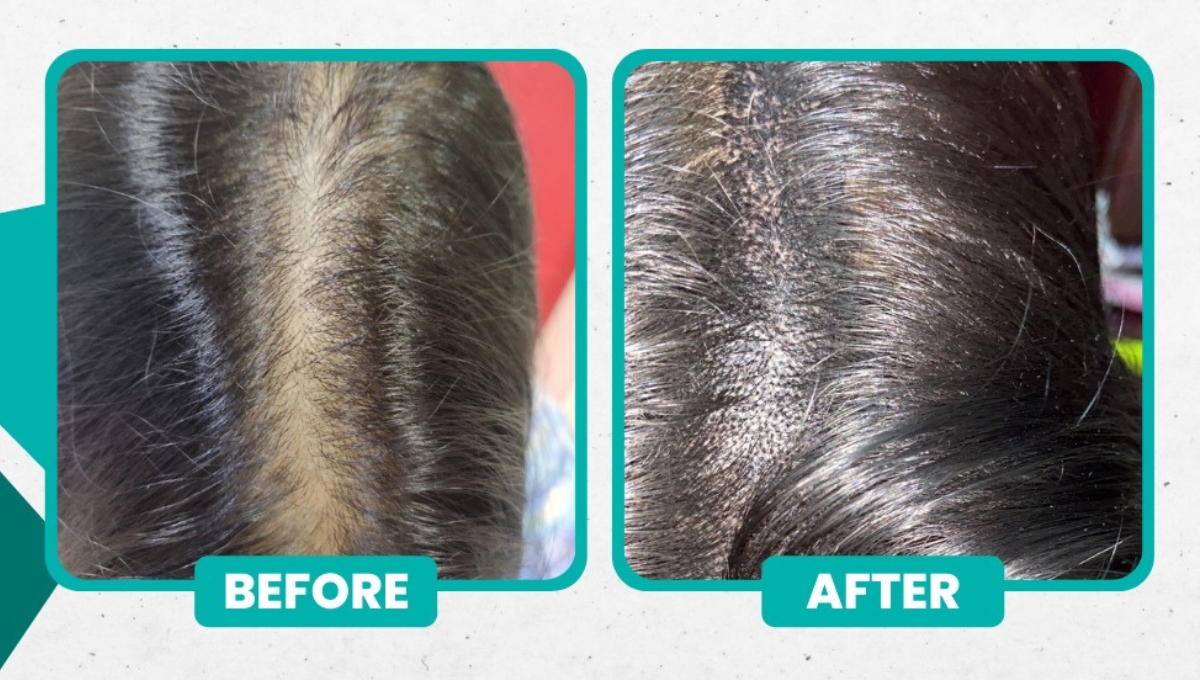 Hair Fall Treatment

in Vijayawada

If you have been struggling with hair fall or hair loss, here are effective and safe hair fall treatment in Vijayawada.

PRP Treatment: Platelet Rich Plasma Therapy, or PRP treatment, is a fantastic non-surgical option. They inject concentrated blood plasma loaded with growth factors into your scalp to stimulate hair growth. Those growth factors work their magic by promoting the regeneration of hair follicles, giving you fuller and healthier hair. It's like a natural makeover for your locks!

Mesotherapy: If you're always on the go, then Mesotherapy is the way to roll! It's a non-invasive hair regrowth treatment where they customize injections with minerals, amino acids, and vitamins, and voila! They administer it directly to your scalp to nourish your hair follicles and improve scalp health. You'll be amazed at the results and the best part? Minimal downtime means you can rock your busy lifestyle without any worries.

Hair Transplant: Labelle's hair transplant procedure is top-notch. They'll harvest hair follicles from a donor site and expertly transplant them into those thinning or bald areas on your scalp. The transplanted hair follicles will grow naturally, leaving you with a fuller and natural-looking head of hair.

Say goodbye to hair woes and hello to fabulous hair days!
Why Choose Labelle for your Hair Fall Treatment

in Vijayawada

Labelle Vijayawada has been in this business for over 23 years, so you know you're in good hands. Its highly standardized protocols mean you'll get personalized and effective hair loss treatment in Vijayawada.

Moreover, certified dermatologists and state-of-the-art equipment ensure the best results for your hair growth journey with its most effective and safe hair loss treatment in Vijayawada. With its advanced technology and caring approach, you'll be amazed at the transformation in no time.

That said, you must be wondering about the price factor. Labelle understands that budget could be an obstacle when considering hair fall treatment in Vijayawada. Everyone's needs and preferences are different. Therefore, their rates are equally competitive. Think of it as an investment for your hair's health. When you witness the transformation, you'll realize it was all worth it.
Benefits of Hair Loss Treatment

and Care

Here are the fantastic benefits of these hair growth or hair fall treatment and the essential care needed to maintain those beautiful tresses.

Fuller and Thicker Hair

Remember those days when your hair was your crowning glory? Hair regrowth treatment can bring back that magic. Whether you opt for PRP treatment, Mesotherapy, or a hair transplant, these procedures work wonders on your hair follicles, encouraging the growth of new, thicker, and healthier hair.

Boosts Confidence

Hair loss can take a toll on your self-assurance. But with the remarkable results of hair regrowth treatment, your confidence will amp up. Others will notice the difference, and you will feel fantastic from within.

Natural-Looking Results

We all want to look like our natural selves. Hair transplant procedures give you natural-looking results that seamlessly blend with your existing hair. The transplanted hair grows and behaves like natural hair, allowing you to style it confidently.

Long-Lasting Results

Say goodbye to temporary fixes. Hair regrowth treatments offer long-lasting results. Whether the procedure is stimulating hair growth or transplanting healthy hair follicles, these treatments provide a lasting solution to hair loss.
Caring for Your

Regrown Hair

As a precious garden, your regrown hair needs tender care to stay healthy and lustrous. Here are some essential care tips to follow:

Follow Post-Treatment Instructions

After undergoing hair regrowth treatment, pay close attention to post-treatment care instructions, which can optimize your results and prevent unwanted complications. Your hair deserves that extra pampering.

Use Gentle Hair Care Products

Treat your hair with kindness! Opt for sulfate-free and gentle hair care products that promote overall hair health. Your hair will thank you for it.

Protect Your Hair from the Elements

Your hair needs protection from harsh elements. The scorching sun or environmental pollutants can damage hair. Wearing a hat or scarf can provide an extra layer of care and protection.

Embrace a Healthy Lifestyle

Nourish your hair from the inside out with a wholesome lifestyle. A well-balanced diet, regular exercise, and proper hydration all contribute to maintaining healthy and vibrant hair. It's not just about the hair; it's about feeling great overall.

Avoid Excessive Styling

As much as we love experimenting with hairstyles, excessive heat styling, tight hairdos, and frequent chemical treatments can take a toll on your hair's health. Let your hair stay its natural self. Give it room to breathe.
Best Hair Fall Treatment Clinic

in Vijayawada

When hair loss becomes a concern, seeking professional help from the best hair fall treatment clinic in Vijayawada is essential. Labelle Vijayawada offers effective and safe hair regrowth treatments tailored to your specific needs. With its advanced technology and experienced dermatologists, you can bid farewell to hair worries and embrace a fuller, healthier head of hair.