Understanding

Hair Fall

The primary contributing factors to hair loss include the following -

Genetics

Making separation between MPB predominantly affects males more than females while they attempt partial maintenance. is crucial; However, Most instances are marked by genetic causes internal due to family medical history.

familial inheritance plays a role here, where by dodging off to hairlessness may come easier to some—baldness can strike with immunity.

Hormonal Imbalances

Hormone levels impact heavily on hair quality. Hormonal changes triggered by various factors including thyroid problems, PCOS, and expectancy may cause alopecia or thinning hair. Menopausal hormonal fluctuations cause hair thinning and shedding in many women.

Stress

Not only do physical but also emotional factors act as triggers sometimes. Telogen effluvium is a temporary hair loss condition often caused by a significant stress event, be it emotional turmoil or physical trauma like surgery. Stress pushes hair follicles into a resting phase, causing them to fall out more than they should.

Poor Diet

Lack of essential nutrients hinders optimal hair health. A diet lacking essential nutrients like iron, vitamin D, biotin, and protein can weaken hair follicles and inhibit growth. While some believe excessive supplementation is necessary, the truth lies elsewhere—a well-balanced meal has the greatest impact on our locks' vitality.

Medical Conditions & Medications

Certain illnesses, such as alopecia areata (an autoimmune disorder attacking hair follicles) and diseases like lupus or diabetes, can result in hair loss. Furthermore, various pharmaceutical agents employed to handle clinical situations including rheumatoid arthritis (joint inflammation), sadness (depression), malignant growth (cancer), and coronary illnesses might result in trichologic impacts (hair issues) as unintentional reactions.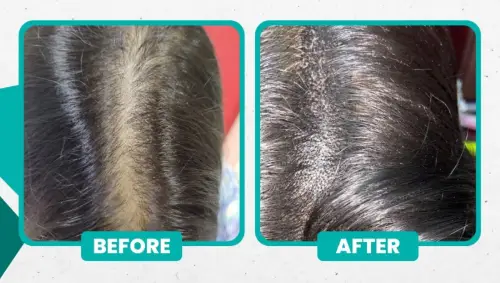 Why Choose Labelle for Hair Loss Treatment

in Vizag

Renowned as more than a conventional clinic, and the best hair fall treatment clinic in Vizag, Labelle shines brightly as a haven for people enduring baldness.

Here's why:

Expert Panel: Labelle prioritizes technical proficiency and emphasizes compassionate care. Patients experience professional interest as our staff actively listens to their needs and desires. By combining scientific proficiency and empathetic care, Labelle distinguishes itself by offering customized plans personalized according to each person's special requirements and restoring assurance.

Advanced Technology: Beyond offering these treatments, Labelle ensures they are administered with utmost precision and care. The clinic continually updates its methodologies and tools in line with global advancements, providing patients in Vizag have access to world-class treatments without having to journey beyond their city. The pursuit of exceptionalism and creativity distinguishes Labelle, establishing it as an undisputed pioneer in the world of hair restoration.

Cost-Effectiveness: While the promise is premium service, the hair loss treatment cost in Vizag, especially at Labelle, is designed to be wallet-friendly without compromising on quality. Offering premier service without breaking the bank, our salon accommodates clients searching for superior styling options without compromising on price.

Holistic Approach: Beyond treatments, Labelle believes in a holistic approach, emphasizing a balanced diet, proper hair care regimen, and periodic check-ups. Consistently providing such support to enhance patient outcomes, their professional team furnishes healthy eating guidelines, salon secrets, and personalized agendas. Building on this solid foundation, Labelle offers lasting assistance and advice through our comprehensive care approach.
Hair Fall Treatments Available at Labelle

in Vizag

PRP Therapy

This method involves taking a bit of the patient's blood, making it richer in platelets, and then putting it back into the scalp areas needing help. Observed particularly in Vizag, this remedy fosters vigorous hair production due to enhanced root vitality.

Publicized by PRP, hair strands sprout well under improved conditions. With minimal downtime and its natural approach, PRP has fast become a preferred choice for many seeking non-surgical interventions in Vizag.

Labelle's PRP procedure is carried out with the latest equipment and by highly trained professionals, ensuring optimal results. Patient satisfaction and quality remain steadfast priorities in Labelle's pursuit of becoming the region's leading PRP treatment provider and hair fall treatment in Vizag.

Hair Transplantation

This is a surgical technique where hair follicles from one part of the body, called the 'donor site,' are moved to a balding part, known as the 'recipient site.'

By prioritizing careful execution, Labelle achieves artistic outcomes while keeping scars to an absolute minimum. Blending masterful technique and cutting-edge tools, Labelle's experts deliver exceptional outcomes that leave patients looking years younger and radiantly confident.'

Treatments to Boost Hair Growth

Applications on the skin side and prescription drugs for oral use can promote hair growth effectively.

When it comes to getting result-driven hair growth treatment in Vizag, you should always count on Labelle. It provides targeted hair development enhancements, tailored specifically towards fulfilling their client's exclusive requirements. Based on thorough research and profound comprehension of trichology, treatments foster tremendous expansion, bolster each hair follicle, and tend lovingly toward creating a radiant head of hair, all while safeguarding an inhabitable environment on top.
Regain Your Confidence

with Labelle!

Hair loss can be challenging, but Labelle is here to help. But here's the thing – it's more than just bringing back your hair; it's about bringing back your confidence. At Labelle, the focus is on you. They get it. They know that feeling when you see your reflection and it's a smile, not a worry.

With expert care, the latest treatments, and a warm approach, Labelle makes the journey to better hair health easy and reassuring. They're committed to helping you feel your best from the inside out.

Every step at Labelle is crafted with your well-being in mind. Ensuring that each visit moves you closer to your hair goals. It's not just about restoring hair; it's about restoring the joy and confidence that comes with it. Let Labelle guide you. Book your consultation today!